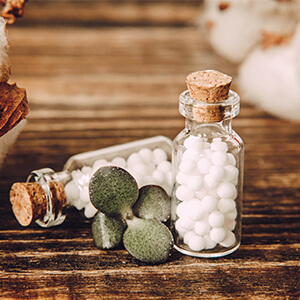 What is Homeopathy?
---
Homoeopathy is known to be a pseudoscientific method of an alternative treatment developed 200 years ago in Germany by Samuel Hahnemann. It is based on the belief that "like cures like". Homoeopathy stands on the theory – "if any substance can lead to symptoms of the disorder in a healthy person can cure similar symptoms in a diseased person".
What spectrum of health problems are addressed?
---
Homoeopathy is the branch of medicine that is known to address a range of maladies. The treatment is based on symptoms and the belief "like cures like".
Which are the most common treatment?
---
Some of the common treatments of Homeopathy therapy include –
Asthma , Hay fever , Mental health conditions , Depression , Stress , Anxiety , Allergies, such as food allergies , Irritable bowel syndrome , Dermatitis (an allergic skin condition) , Arthritis , Rheumatoid arthritis , Ear infections , High blood pressure , Migraines , Chronic fatigue syndrome , Premenstrual syndrome.
For whom is Homeopathy more beneficial?
---
Gender –
Homeopathy is known to be beneficial for both men and women, however, it is recommended to check if the medicine suits you.
Age –
Young children and adults can both benefit from Homeopathy medicines if it suits the concerned patient.
Inherited traits –
Homeopathy is highly beneficial in treating genetically transmitted diseases.
Pre-existing disorders –
Pre-existing disorders, both mental and physical as well as psychosomatic diseases.
Homoeopathy and COVID-19
---
It was reported by Healthworld.com from the Economic Times that the AYUSH ministry declared that the homoeopathic medicine named Arsenicum album 30 if consumed in an empty stomach daily for 3 days can as a prophylactic medicine against COVID-19.