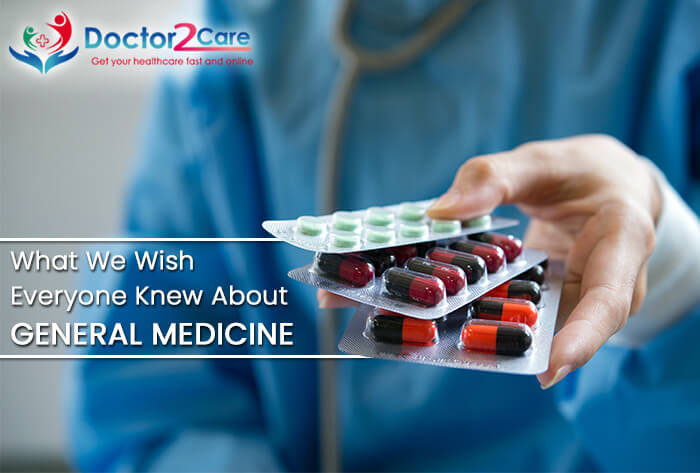 Who hasn't been to a doctor at least once?
Everyone has for sure! So, whom do you see? A GP or a specialist? Usually, the first physician you see is the GP.
There are many names for a general medicine doctor. They are known as primary care doctors, general practice doctors, or just doctors! These persons are usually the first point of contact for people who are ill. They will refer you to a specialist or a surgeon as they may decide the case to be. So, let's find out everything about general medicine today from the best general medicine doctors in India.
What is General Medicine?
General medicine is a field of medicine that deals with the prevention, diagnosis and non-surgical treatment of illnesses. As mentioned before, GPs are the first point of contact whenever you are ill. These doctors will conduct an examination and recommend some tests for you to take. Post taking the tests, they will give you a final diagnosis. They may either prescribe pills (medication) for you to consume or any visit to the specialist for further diagnosis.
Who is a General Physician?
A general physician is someone who is qualified in general medicine and treats patients until they are better. They typically provide non-surgical care and continue to treat patients until the condition stabilises or is gone.
They usually have a broad range of expertise and are not limited to caring for one part of the body or system.
Usually, the primary physician will have knowledge of a patient's medical history and the family history as well. Moreover, insurance companies require that you see a general physician before you check with a specialist.
What are the Common Diseases Treated by General Medicine?
A primary physician will look at a variety of diseases, conditions and problems.
Some of them are:
ADHD

Allergies

Asthma

Bladder infections

Broken bones

Bronchitis

Cancer screenings

Cuts and scrapes

Diabetes

Ear infections

Fever

Fungus issues

Headaches and migraines

High or Low Blood Pressure

Menopause

Minor burns

Nosebleeds

Pain

Respiratory and Sinus Problems

Sexually transmitted diseases

Skin conditions

Sprains

Swelling in the arms or legs
As you can see from the list of diseases the primary care doctor takes care of a variety of problems. You can see the primary care doctor at any point in your life. Moreover, the primary care doctor also provides vaccines and administrative care.
What is the Role of a General Physician?
The general physician's job role is very wide. He has to take care of every possible aspect of the patient's health, in case nothing is missed. Here are some of the roles of the general physician.
Holistic Approach
The general physician is responsible for a holistic and comprehensive approach to the patient. What does this mean? It means a general physician will diagnose everything that they find amiss with a patient. This is because it is not possible to say which symptom or condition affects the individual and is the cause of the disease.
They Know Many Procedures
A general physician is trained to perform various procedures. In fact, they are trained to perform a lot of procedures as they oversee things from scrapes to cuts to bruises. Hence, they can be relied on to take care of complex and temporary illnesses.
Diagnosis
All the diagnoses that a doctor will perform, will be taken only after the results of tests. Hence, general physician doctors are trained to understand the outcomes of various tests and make the right diagnosis.
Treatment
General physicians have an idea of all the latest treatments and typical treatments regarding most conditions. Hence, they can prescribe medication and other tests.
Pre-and post-operative assessment
The GP will be with you till the disease or condition is removed or cured. Hence, they also provide pre and post-operative assessment which means if you need surgery they will monitor your condition post that.
Conclusion
This was all about the role of a general physician from some of the best general medicine doctor in India. To consult with the best physicians from all over the country you can register on Doctor2Care.
Doctor2Care is an online platform for consultations with a variety of physicians around the country. Make an account and register there for consultations with a variety of specialised doctors.