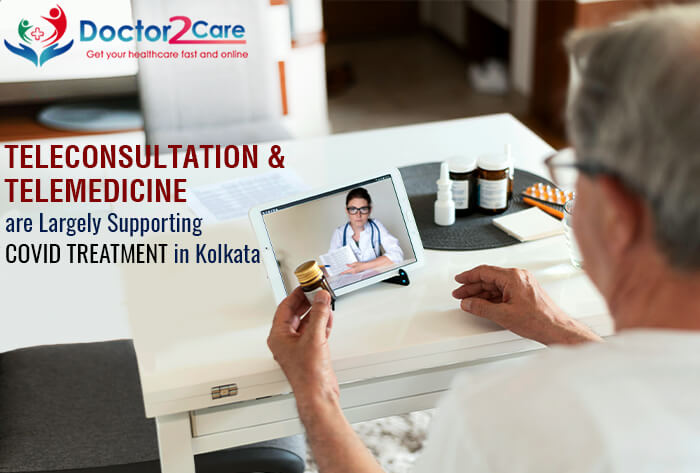 Teleconsultation and telemedicine are two practices or rather trends that we have seen growing in popularity since the beginning of the covid-19 pandemic, more so now!
Owing to the significantly high transmission rates in Kolkata, patients are literally scared to get admitted to OPDs which are out-patients departments, or shared hospital rooms more popularly known as the 'general ward' in Kolkata.
Teleconsultation- A Huge Solution Amidst Covid.
The only way out left for the people is teleconsultation and telemedicine to protect themselves and their families from the transmission.
Several leading hospitals and healthcare chains have completely shifted to digital platforms relying on online consultation. You see the doctor online, your doctor prescribes medicines for you online, you order the prescribed medicines online, and then you get the medicines delivered to your doorstep. Doesn't that sound really responsible, hassle-free, and safe?
Several leading hospitals have also started and established public awareness campaigns, especially for patients, educating all about how they can shift to virtual meetings for a doctor consultation with any good covid doctor India, booking a covid test, treatment, buying medicines.
The virtual process helps all of us abide by the social distancing norms to keep our families and ourselves safe. There is no hassle of traveling to the doctor's clinic when you're sick. Since you won't step out of your home, your risks of transmitting the virus to others or getting infected naturally decrease.
Reports show that just over the last few weeks, hospitals in Kolkata have seen a dip by 80% in the OPD footfalls, which makes the bigger picture clearer for us.
It's easy and fast and hassle-free for us to get diagnosed online, book tests online, get prescriptions online, and also buy the prescribed medicines online.
AMRI Hospital in Kolkata had come up with its own online consultation platform back in April 2020, but the platform has rigorously been reinstated and re-promoted only recently. We have close to 50+ doctors across all the three AMRI units situated in Dhakuria, Salt Lake, and Mukundapur have already enlisted to help people through the virtual platform, while we're waiting for more doctors to come on board, which is also most likely to happen in light of the high transmission rates of Omicron.
Reports have clearly shown that the demand and preference for OPDs are down to a meager 20% which has compelled and convinced major hospitals to initiate, focus on, and spread awareness about online consultations, be it for a Covid-infection, or any other ailment that's not in any way related to Covid.
How to book an online consultation?
Booking online doctor consultations for any ailment or health concern, especially connecting with a good covid doctor Kolkata, is easier than you think!
All you have to do is register with portals like Doctor2Care and book an online consultation with the enlisted doctors. In case you get confused with a lot of good options, our staff can guide you to find the best-suited doctor for you, both in terms of the health concern you're suffering from and in terms of your affordability, while urgency can also be a factor in case of emergencies.
The number of online consultations being booked is multiplying with every week, in every city in India, especially in Kolkata. This clearly showcases the importance of teleconsultations amidst the covid pandemic.
Giant healthcare chains and hospitals in Kolkata are doing their best to spread awareness about and promote online doctor consultation by using various mediums that include social media, radio forecasts, the hospitals' own call centers, emails, websites, even ads, and SEO.
Healthcare professionals are basically doing their best to make the larger public ratio completely shift to and rely on online consultations and teleconsultations because that's the best future we can see for the healthcare industry.
Hospital chains like Peerless, besides AMRI, are also walking on the same path. Several doctors have enrolled to provide consultation via video chat as well. Another good thing about online consultations in terms of convenience is the secure payment gateways integrated with the hospitals' websites or mobile apps, to enable contactless and hassle-free payments.
Online Consultation for Patients who need Follow-Up Treatment.
Even patients who actually need to consult with their doctor for follow-up treatments sessions can largely benefit from online consultation because your doctor already knows what's wrong with your body, and he/she has already prescribed medicines, and all he now needs to check is how you're doing and whether the prescribed medicines are working or not. With online consultations, you don't need to put yourself and your family through the hassle of traveling to the doctor's clinic every time you need a follow-up session.
For example, patients with diabetes usually need to keep sharing regular health updates with their doctor. But you don't need to physically travel to your doctor to share your blood sugar count. Your doctor does not need to physically see you, to know whether your medicines or dosage needs to be altered. Your doctor can ask you questions on the video call, you can answer them sitting at your home, and your doctor can easily determine what you need to or what needs to change in your course of treatment.
Teleconsultation is clearly supporting covid-treatment in the entire country and is certainly a boon for the healthcare industry on a smaller scale, and the world on a larger one.