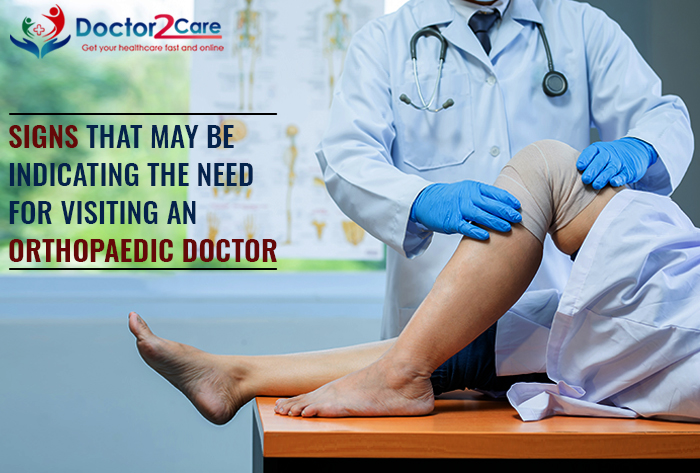 Are you experiencing knee pain or back pain on a regular basis? Do you feel it's normal to feel this way?
Well, it's not normal to feel such pain regularly. It is important to understand the root cause behind the pain and seek proper medical treatment to deal with the pain and suffering. You can get in touch with the best orthopaedic doctor in India to consult and deal with your situation.
You can find adept doctors online on platforms like Doctor2Care and seek orthopaedic treatment conveniently.
That being said, given below are some of the reasons why you should visit an orthopaedic doctor -
Reduce pain
An orthopaedic doctor can help reduce pain and stiffness. Orthopaedic doctors specialise in the musculoskeletal system and can help you deal with the various types of joints and their functions. These joints may include -
Nerves
Bones
Joints
Tendons
Ligaments
Cartilage
Connective tissues
Muscles
There are several musculoskeletal conditions and injuries that can cause pain, stiffness and suffering. And an orthopedic doctor can help in reducing or eliminating such pain effectively.
Orthopaedic doctors can diagnose, treat and prevent -
Hip pain
Back or neck pain
Shoulder, wrist or elbow pain
Hand pain
Ankle or foot pain
Knee pain
In case you experience a sharp or dull, acute or chronic pain, it is best to see the help of an orthopaedic doctor.
Treats injuries
Fractures (including stress fractures and compression fractures), broken bones, this location, tendon tears, muscle injury and tendon ruptures are some of the common reasons why one visits an orthopaedic doctor.
Injuries are quite common in athletes especially and therefore they consult an orthopaedic doctor quite frequently to deal with and prevent such injuries.
Orthopaedic surgeons can help in repairing broken bones and fixing injuries to tendons and muscles. This improves the overall function of the concerned body part and eliminates pain.
Orthopaedic doctors at times also work in conjunction with other specialists including rehabilitation doctors, therapies and pain management specialists to improve function and mobility, optimise treatment, reduce pain and improve the quality of living.
Not all injuries required surgery and can be treated with physical therapy as well, such as -
Ankle sprain
Fractures like a broken wrist, compression fracture of the vertebrae, broken hip, kneecap and others
Plantar fasciitis
Tendon injuries
Meniscus tear
Rotator cuff tear
Labral tear
Tennis elbow
Stress fracture
Carpal tunnel syndrome
Regardless of the injury and its severity, it is recommended to seek medical help from an orthopaedic doctor to avoid future complications and increase in pain.
Aids musculoskeletal conditions
Orthopaedic doctors specialise in treating a variety of musculoskeletal conditions affecting the nerves, joints, muscles, connective tissues and bones. They also help in addressing conditions like bursitis, arthritis and osteoporosis which can lead to pain and debilitating dysfunction.
Considering orthopaedic conditions are chronic, meaning it can last for months or years and are often found to be progressive (deteriorating over time), it is important to seek timely treatment to address the condition. While some of the conditions may be related to age and might be genetic, others may be caused due to overuse of the affected area.
To understand the root cause behind the pain of the condition, it is important to seek medical help at the earliest.

Improves mobility
The bone disorder can also restrict mobility especially for the elderly. This is why it is important to seek the help of an orthopaedic doctor to improve mobility and reduce pain.
However, it is important to understand that not all bone disorders lead to restricted mobility. One can also face problems in mobility if one is suffering from kidney disorders.
Most patients with chronic kidney disease or CKD suffer from substantial loss of muscle mass, leading to poor physical performance and weakness.
As the condition deteriorates, skeletal muscle dysfunction becomes a common reason for mobility restriction, loss of functional independence and vulnerability to complications in diseases.
Therefore, if you have been suffering from acute loss of mobility along with other signs of kidney disorders it is important to get in touch with the best nephrology doctor in India to seek proper diagnosis and treatment.
Supports regular tasks
Orthopaedic doctors are expert in treating conditions like bursitis, osteoporosis, arthritis, tumours and pain (joint pain, knee pain, muscle pain and hip pain). Such conditions often make it difficult to perform everyday tasks.
Seeking proper treatment can make it is your and comfortable for the patient to carry forward their regular activities with lesser pain and restrictions.
Summing it up…
Getting in touch with an orthopaedic doctor not only reduces pain and discomfort but also improves the quality of living. This is why it is important to seek medical help upon experiencing the slightest symptoms of orthopaedic conditions.
In view of the current scenario, you can reach out to your orthopaedic specialist online by registering on platforms like Doctor2Care.
We offer private consultations along with a clinic like an experience, cloud storage and top doctors for addressing your ailments.
So without further ado, register yourself on Doctor2Care and get in touch with the best orthopaedic doctor to address your conditions.