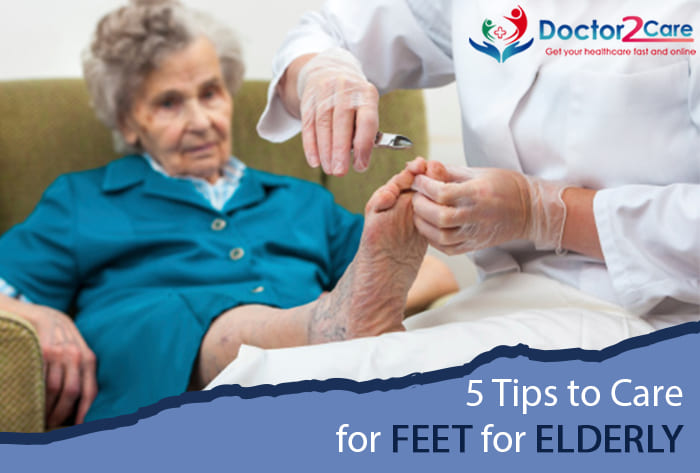 Often we have seen senior citizens suffering from problems related to their feet. This is because, as a person grows old, the circulation of blood in their feet grows weaker. Moreover, the cushioning of their feet grows weak, and the nails and skin grows hard and brittle. Also, the skin dries up.
As you grow older, your feet care becomes very important. This is because if you have diabetes, you may need to maintain your feet properly. Diabetes can cause sores on your feet or even prevent any cuts or bruises from healing properly.
Thus, on that note, online doctor consultation in India, Doctor2Care, gives you some tips on how to look after your feet as you grow older.
5 Tips on How to Care for a Senior's Feet
In this blog, we will look at how a senior can take care of their feet and how a caregiver can also help them take care of their feet.
It's hard for seniors to keep their feet clean because they cannot reach those places between their toes! So those taking care of them must help to keep their feet clean. Take a soft cloth and dip it in warm water. Then wipe the entire foot including the areas between the toes. This will help to prevent bacterial, fungal and viral infections of the feet like athlete's foot. Also, you can wash their feet at night, so that they have better sleep.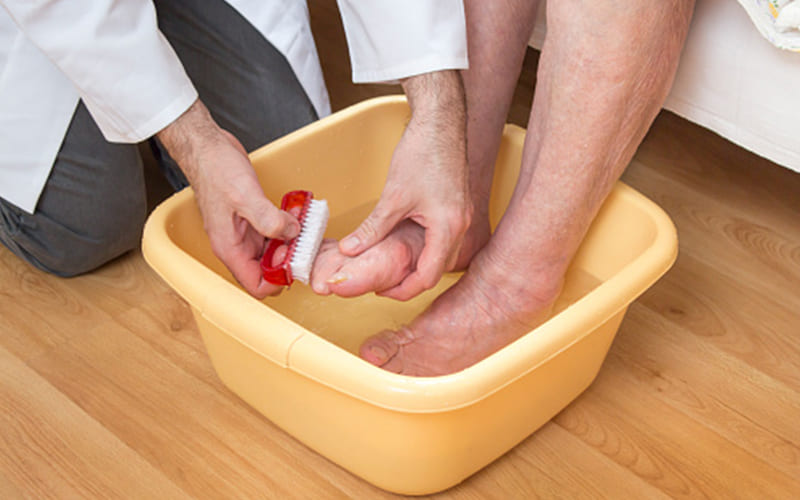 Tip #2: Moisturise Your Feet
Old people's skin is prone to drying up sooner. Hence it is necessary to keep the skin moisturized and keep it from breaking, flaking, or cracking. This helps to prevent open foot sores. What you can do, is purchase a bottle of coconut oil or other natural oils, or even petroleum jelly. Applying this to your foot can cause the cracks, brittleness, and flaking to heal. Moreover, if massaged properly, the oil seeps into the pores of the skin and helps to heal the broken skin.
The next thing to do is trim the nails. You can also take them to visit a podiatrist who will help to take care of their nails. They will also offer certain services to help them keep their feet in proper working condition. Nails need to be trimmed frequently so that people do not trip and fall. Also, the nails should not be allowed to grow very long as they can hurt when wearing closed shoes. So, keep the nails trimmed and clean. Opt for professional treatment if you must.
Tip #4: Keep circulation flowing
Old people suffer from poor circulation of blood to their feet. As you age, you may also suffer from the same. What's the solution? The only way to tackle this problem is to put up your feet whenever possible. Whenever you sit down put up your feet as this aids in blood circulation. Also when you lie down you need to keep your feet at a higher height. You can also do light exercises after consulting with your doctor. Moreover, you can even massage your feet with oil or some kind of soothing gel, so that your feet remain supple.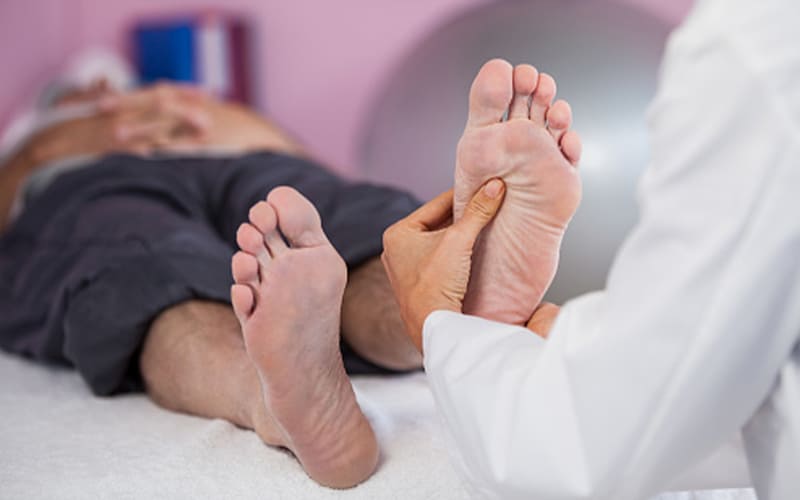 Tip #5: Wear proper footwear
You need to wear proper footwear so that you do not suffer from pain while walking. Avoid walking around inside the house with bare feet as you might hurt yourself. Also, wear cushioned slippers so that you can have proper support when you walk. Invest in a good pair of shoes for your comfort. Shoes are very important for old people and they should choose their footwear carefully. You can see a podiatrist and ask them to recommend stores where you can purchase the right kind of shoes.
Conclusion
Feet carry us on all our adventures. So no matter how old we get we have to take good care of our feet so that they are healthy and well maintained. That way you can stay mobile for longer.
To maintain your feet try to avoid walking or standing for long periods of time. Moreover, you need to also keep the shoes and socks you wear clean and tidy. This way you can avoid fungal infections.
In conclusion, if you need to maintain and manage your feet you can get in touch with doctors from Doctor2Care. Moreover, if you have any foot problems you can get in touch with us and book an appointment with them. Furthermore, online doctor consultation in India is becoming a very popular method of consultation.